Sometimes things work out weirdly. You spend ages on one game, only for a delay to hit it unexpectedly. So another is unleashed faster than you expect.
The Queen's Men done, but awaiting art. It's from the very cool, David Michael Wright, so it's worth waiting on. He's a talented man, so has a queue.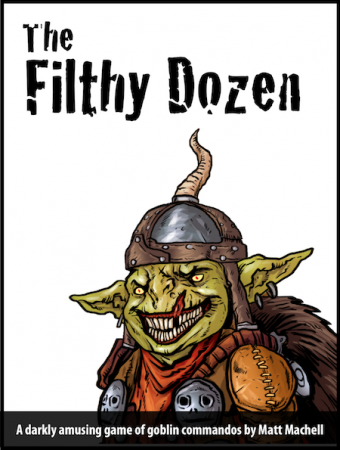 Meanwhile, I managed to finish off a side project called The Filthy Dozen. A dark and amusing game of goblin commandos, trying to survive in this here army. It's inspired by World War 2 movies like Guns of Navarone and novels like Bernard Cornwell's Sharpe's Rifles and Terry Pratchett's Monstrous Regiment. It take some mechanics from the excellent 3:16 and twists them in new, and hopefully entertaining, ways.
It's full of quirky goblins, comedy and tragedy. It features choices like sacrificing a comrade or your very impressive hat, serving a lord who cares little for you or forging a new path. It has rules for Violence and Other Stuff.