The Queen's Men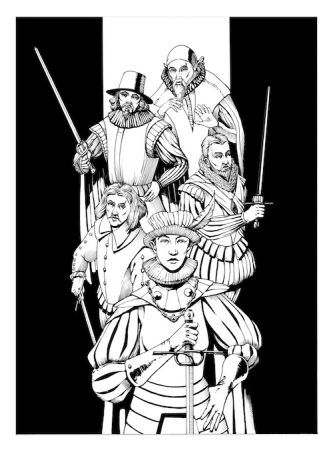 In 1975 auteur director Luis Zorge, in tax exile from France, agreed with London Weekend Television to produce a late evening action series. Running for 8 episodes, The Queen's Men threw historical accuracy to the wind and mixed action, adventure, espionage and horror into something quite unique.
The show followed the adventures, in a technicolour 1585, of The Queen's Men; A diverse group assembled by Francis Walsingham to secretly defend England from the forces of evil, be they papists, creatures of the night or other unsavoury influences. Filmed expensively at Pinewood studios, the mix of sumptuous period costumes, special effects and some classic actors given the chance to chew the scenery became a sleeper hit.
Sadly, the series was cancelled due to a very public argument, between Zorge and The National Viewers & Listeners Association, over some of the shows more risque content and occult themes.
This is the roleplaying game of the making of the series that never was.
Available as PDF on RPGNow, on ITCH.IO or in Print at Lulu
Downloads
Character Sheet - a single character sheet
Playsheets – character and mission sheets for the game. Contain all 8 missions from the book as well as the pregenerated main characters, together with blank playsheets for your own episodes.
Lord Dudley's Menagerie – a single sample scenario